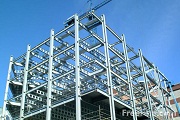 Steel Strips
The Process of Tube Manufacturing starts with forming of H.R. Steel strips into Tubular shape & welding the edges under pressure using high frequency heating. The basic raw material for manufacturing of pipes is H R Coils.
After receiving the raw material in Coil shape these are slitted into various widths according to requirements of Pipe Dia at Slitting machine.
After slitting the slitted coil is loaded on the uncoiler and stored in accumulator to enable the continuous running of the mill while tail end of slit is welded with the leading end of next coil with the help of MIG welding.
The strip is passed to a set of rolls to get the shape and the outer edges of strip are heated by high frequency induction coil. Outside flash of welding is removed with the help of round tool (Scarfing tool) so as to give better finish. The welded tube is again passed through a set of Rolls to get the specified to lerances on outside Diameter. Inside flash of weld can also be removed if required by the customer above 75mm outside Diameter. Our product range is from 10.00mm NB to 200mm NB. After the pipes are made these are cut into the required lengths with PLC Logistic Controls.
After cutting the pipes the pipes are sent to De burring machine for removal of Burr at the end to avoid any injury to the workmen.